Last week, Deloitte released its 2016 Technology Fast 500 Rankings. The list covers technology companies well beyond software, but 58% of the companies are software-related.  Perusing the list gives you the sense of what software segments are hot from a revenue growth perspective, not just a fund-raising perspective.  (How old-fashioned to look at revenue!)
Here's part of Deloitte's infographic about the list: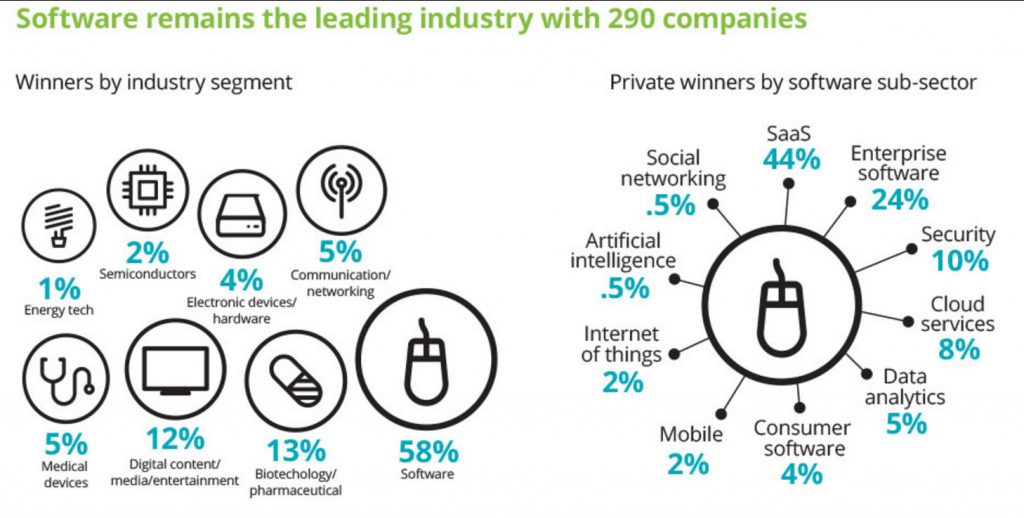 By mixing "SaaS" with functional definitions of software in the right graphic (above) Deloitte achieved the true definition of "form over substance."
Software Companies on the 2016 Technology Fast 500 List
The 290 software companies on the 2016 Technology Fast 500 list are dominated by a few categories of software that will not surprise any of you and do not interest me:
Security software
Ad Technology (what a waste of engineering talent)
Sales and Marketing Automation (this one interests me, but enough already with the better ways to target and manage B2B leads!)
Cloud infrastructure management (deployment and monitoring)
Healthcare outcomes
But within that long list of software companies there were a few B2B SaaS Platforms that I:
had not previously blogged about
have true platform potential
do not have NDAs with!
are interesting to me and I hope will interest you.
The above bullet points are my way of saying, this list is "quirky, not exhaustive".
B2B Saas Platforms on the 2016 Technology Fast 500 List
#6:  Doximity.  The LinkedIn for doctors.  Doximity has 60% of US Doctors signed up!  It's not B2B, but it is close.  I have no idea if Doximity makes money, but no one probably cares at this point.
#22:  Benevity Inc.  A platform to connect employees who want to volunteer with charities who need them.  A "goodness" platform.
#96:  Plusgrade.  Okay, it is not really a B2B platform either, but I could not resist adding to this list a company that sells forward auction software to airlines for travelers to bid for upgrades to business or first class.  Love that idea.
#125:  AcademicWorks.  This company seems like it could be a three-sided platform between academic institutions, donors, and scholarship recipients.
#131:  Truveris.  I tried, but I could stay completely away from healthcare outcomes.  Truveris is focused on prescription drugs analytics.  It connects at least patient data, payers, employers, pharmacy benefit managers.
#170: Symplr.  Vendor Information Management in the healthcare space.  This one looks like a clone of Vendormate (now owned by GHX).
#250: Loanlogics.  Plays in the mortgage market.  I'm not exactly sure how it relates to another successful platform in the mortgage market, Ellie Mae (#429).
#342 and #468:  Copperleaf and Enersight.  These companies offer financial analysis and planning tools for asset-intense industries.  I cannot tell if they are architected as platforms, but perhaps could be–especially Copperleaf?
#369:  Greenphire.  Greenphire is a vertical payments solution for the clinical trials market.  I love markets like that–many relatively small payments to customers who want the cash and have to be kept happy!
#469:  Core Informatics.  This company is trying to build a "scientific marketplace" on top of its Laboratory Information Management System (LIMS).  Having been in the food testing business for eight years, I have a soft spot in my heart for LIMS.  It is a great market for the cloud and probably got a late start moving that direction.
If you have details on any of these companies, please feel free to add them in the comments!